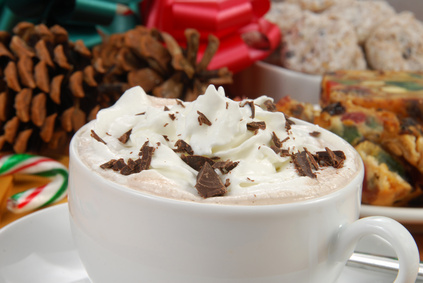 Holiday gatherings and parties are fun and I truly look forward to the day that I can actually host them again in my own home. The only problem with being a hostess is the stress and planning involved with any gathering.  
As you all know I'm really big on making it as simple and stress-free as possible and the holidays are so fun for entertaining because of the ease of decorating and theme choosing. 
Personally I am loving the idea of a Self-Serve Coffee (& Cocoa if there's little ones present) bar for holiday entertaining. Today's versatile coffee brewers offer such a fun variety of ways to offer unique options to your guests so that they can create their perfect drink. Here's my 5 tips for pulling off the perfect Coffee and Cocoa Bar.
1. Choose beverages, etc. according to your guest list. You can't necessarily please everyone, but having a selection of options available for guests to suit their unique needs can be helpful. One of the things I love most about entertaining during the holidays is getting to use my special carafes or teapots.
If you have a special coffee brewer relocate it to this table and have it ready to brew some fresh coffee. You might want to keep this one simple and just do a really versatile unflavored roast from your favorite roaster. Depending on the crowd you have, you may want to also offer a pot of decaf coffee as well as one or two pots of hot water for tea and hot cocoa.
2. Create a Coffee station. This is an entire table or counter where you'll put your coffee maker, mugs, all the extras. Keep it simple and festive. A pretty tablecloth or runner with just a few sprigs of holly or little themed goodies here and there are all it needs.
3. Choose some fun flavored creamers. This is where you're going to get creative. If it is an adult only party, you can get a little more liberal with some of the possibilities. If there are kids present, there's still lots to choose from or you can go with very simple creamers and let the toppings (see #4) take center stage.
There are so many amazing creamer flavors out there. Have fun with how you serve these creamers. Putting them in festive creamer pitchers with little tags saying what flavor they are is always a fun option.
Food for thought: you may want to provide some alternative creamers that are coconut milk or rice milk base for those who can't have milk products.
4. Fun with toppings. This is the fun part of the table. Setting up a row of shakers with cinnamon, chocolate sprinkles, mint sprinkles or just fun colorful sprinkles. You will also want to consider finding unique or pretty containers to serve more toppings like whipping cream, marshmallows, candy canes etc to really make this a fun place for people to deck out their favorite drink!
5. Clean up. Make sure you indicate an area for all dishes and stirrers to be placed when guests are through with them. It doesn't have to be fancy
Need just a little more help with your holiday entertaining?
Breville has released new, time saving products such as the YouBrew, just in time for the holidays! Create your perfect cup or pot of coffee instantly and easily with the Breville YouBrew.  Check out their website for more information on this product and other great gift ideas.
And don't forget to reply below for two chances to win your choice of amazing Breville products either for yourself or as a gift to a loved one: YouBrew, Tea Maker and Smart Oven products ($250 ARV)
This is a sponsored conversation written by me on behalf of Breville. The opinions and text are all mine. Official Sweepstakes Rules
Photo credit: © MSPhotographic – Fotolia.com